DCG understands and appreciates the complexities of managing and growing a business. We realize that owners need flexible capital and partnering solutions. DCG tailors our partnerships to fit business owners' and management teams' specific needs and situations.  There are three basic questions that help determine if partnering with DCG is the right fit.
1. Do you want to grow your business?
There are plenty of companies who are comfortable and do not want to expand. While that's often a great place to be, that's not what we are set up for. We are looking for businesses who have the passion and potential for growth.
2. Are you looking for financial support?
We personally invest in every company we partner with. Partnering with DCG gives you the option to take money out of your business, eliminate personal loan guarantees, and help you gain capital necessary for growth.
3. Do you need a flexible partnership solution?
Your business is unique, which means you need a partnership that's unique. DCG was built on a desire to serve smaller niche companies right where they are. Our job is to give you the flexibility to take the next steps toward success.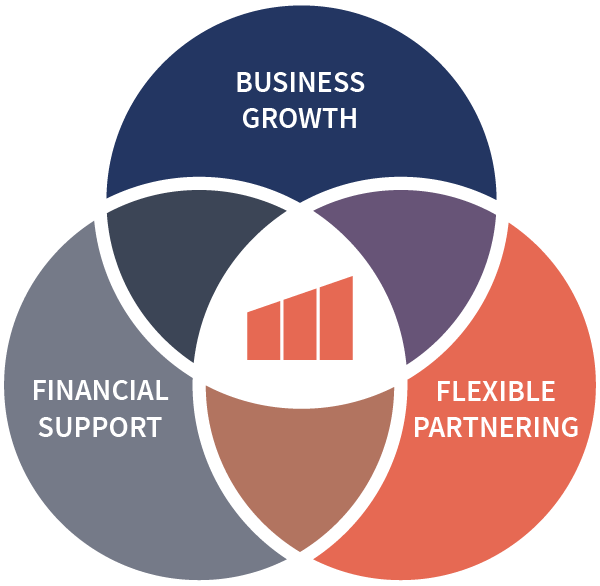 How We Help
-Growth Capital
-Breakthrough bottlenecks
-Expansion or acquisition

How We Help
-Owner Dividend
-Generational Transitioning
-Growth Capital
-Eliminating personal guarantees
How We Help
-Minority/Majority Ownership
-Partner exits
-Management buyouts
"I've known Dan for over four years. He's not like other investors. He's a friend who provides honest advice and who is motivated to help others become successful using his experience and his relationships. He's a smart, proactive, diligent, moral, and strategic partner who is dedicated to serving others above himself. That's why we partnered with DCG to help us accelerate our business. As I begin to realize the dreams I have for my company, I'm setting aside money to invest with DCG in the next wave of entrepreneurs who are motivated to take their business to the next level."
LUKE BARBIN,
CEO, Techson IP
Industry: Outdoor Recreation
The company's founder and CEO were looking for a trusted partner who could:

Provide a trusted and value-based culture that synced with their values and company culture

Provide active hands-on collaborative support to help them grow their business and provide CFO level support

Provide growth capital to accelerate growth
DCG worked closely with the founder and CEO to quickly accomplish all 3 goals by:
Taking the time prior to partnering to ensure our value systems aligned

Immediately providing growth capital and refinancing an existing line of credit that eliminated founders personal loan guarantee

Collaborating with the founder and CEO to bring in a group of industry advisors to help the team accelerate growth while also serving as the company's CFO

Industry: Healthcare
Company owners were seeking support to:

Grow from a regional to national business, but had growth bottlenecks hindering that goal

Allow one owner to retire so the other owner could continue growing the business

De-risk their wealth concentration and take some cash off the table while still participating in future value creation
DCG served the owners by:
Bringing in expert advisors to collaboratively work with the owners to 

grow the company nationally 

while breaking through existing company bottlenecks 

Helping to facilitate a smooth and graceful partner retirement

Helping the owners and management sell the company for more than expected
Industry: Patent Research
The company's founders wanted to:

Develop an IP SaaS platform

Receive financial and strategic support

Rapidly grow their business
DCG worked closely with the founders to:
Provide growth capital to develop their IP SaaS platform

Take a hands-on approach and serve the company as its CFO

Introduce an IP industry advisor who became a collaborative partner to help grow the business
Industry: Climbing and Fall Protection
The company wanted support due to three critical factors:

A minority partner needed to exit the business due to personal challenges

The founder needed to refinance his personally guaranteed loans and secure growth capital to expand his business.

The company's founder needed a partner he could trust who desired to do more than simply invest capital
DCG worked with the founder to quickly accomplish all 3 goals:
We collaborated with the founder to help the minority partner to gracefully exit the business

Through our banking relationships, the company was able to refinance loans without any personal guarantees

DCG infused growth capital to help the founder rapidly grow his business
Industry: Plastics Manufacturer
The company's management team was looking for a trusted partner who could:
Provide growth capital to accelerate growth

Navigate the company through the addition of acquisitions

Help broaden their industry reach
DCG worked closely with the management team to accomplish all 3 goals by:
Providing growth capital and serving as the company's CFO

Helping the company grow through add-on acquisitions

Bringing in a group of industry advisors to help the team accelerate growth